If you
follow me
on either
twitter
or
facebook
, you
should already know
that
I spent the day
with some
really
awesome
people today
!! teheh.
Can you guess who they are?!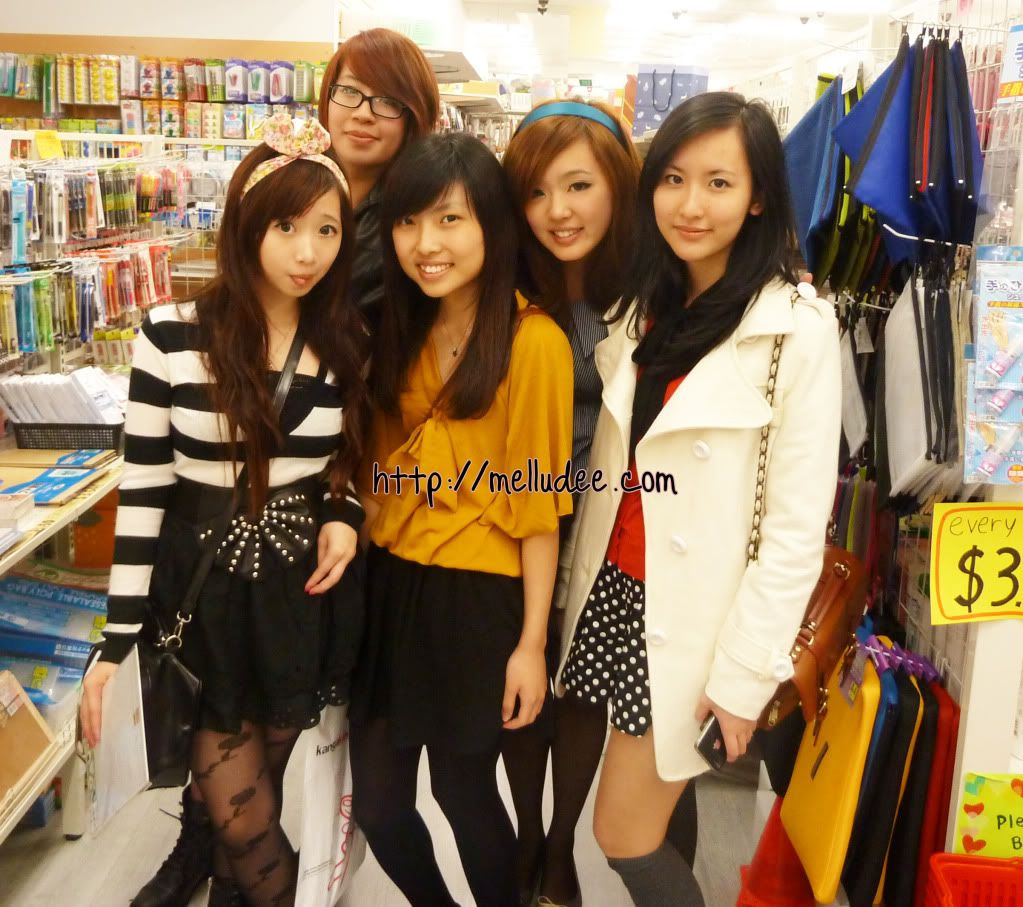 Many of you probably recognize these faces because you might read their blogs too!
Yup,
that's
Tam
,
Min
,
Vu
and I meeting
Amanda
and
Sam
(
who were visiting from Perth
) for the
first time
! It was
probably
the
most awesomest day
I've
had
in the
longest time ever
and
I'm so glad
I met
them all!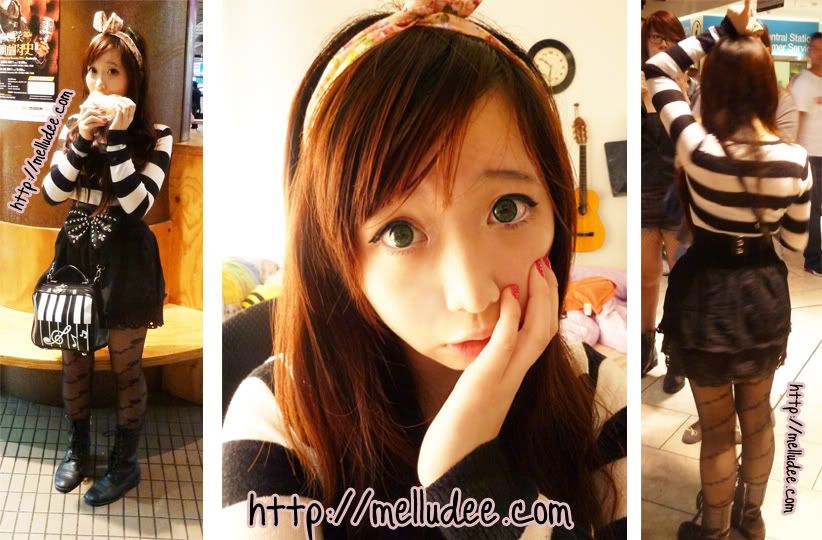 Black&White top, Pink Usamimi, Boots, Stockings, High waisted Skirt, Studded bow belt, key Necklace, flower earrings & piano bag!
This is what I wore out to meet these lovely ladies!! ♥
And let me tell you what my VERY first impression of Amanda and Samantha were.
"WHY ARE YOU GUISE SO TALL!?!?"
Because if you've been following my blog, you should know that I'm only 151cm. Yet these girls are the same age as me and are like ~170cm!!! ;__; I'm so tiny compared to them! ;( ! tehehe Seriously though, look at the photos, I'm stretching my arm up as high as possible and they're bending their knees and yet, the photos were hard to take!
Vu&I's lunch: Takoyaki and Katsudon Bento / Amanda&Sam's lunch: Melbourne's largest Ramen!
We spent ages shopping for Japanese magazines, super expensive Japanese make up/skin care, cheap stuff at Tokuya, taking purikuras, eating yummy Japanese food and well, having lots of fun! ♥
Hehe. I don't even think they knew I was taking a photo of them sneakily like such ;D !
Oh right, I forgot to mentioned. We took A LOT of photos! Hahahaha.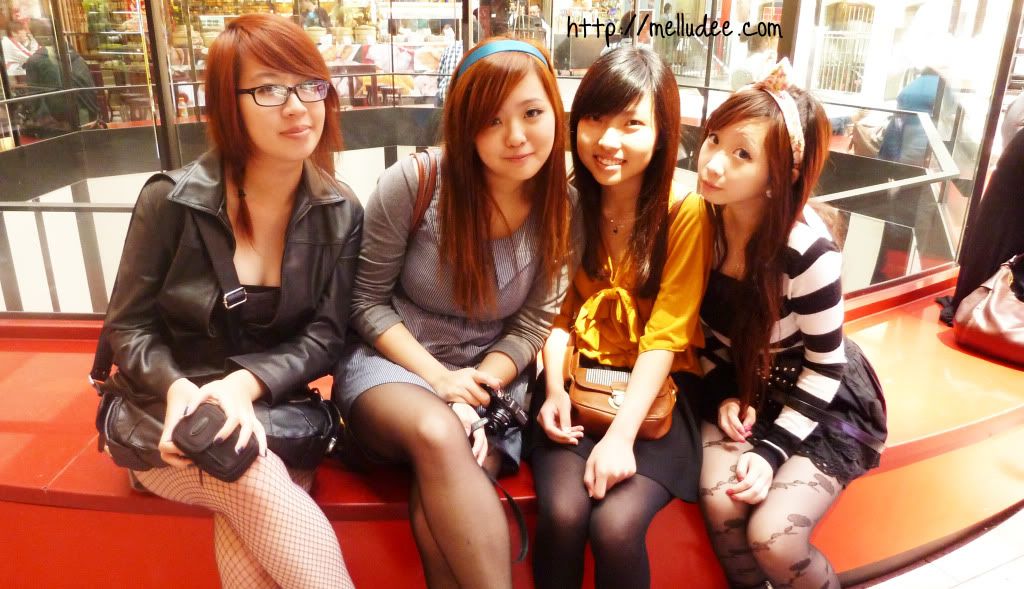 (Waiting for our beautiful Tamtam to show up!)
It was so awesome to be able to meet other people that have similar interests to you and don't fuss over a thing when you want to take 50billion photos of that piece of sushi ! teheh. Ahh, if only Jennifer, Tezza and Marie were here too – then all of my SMV bffls would be here with meee! (definitely one day!)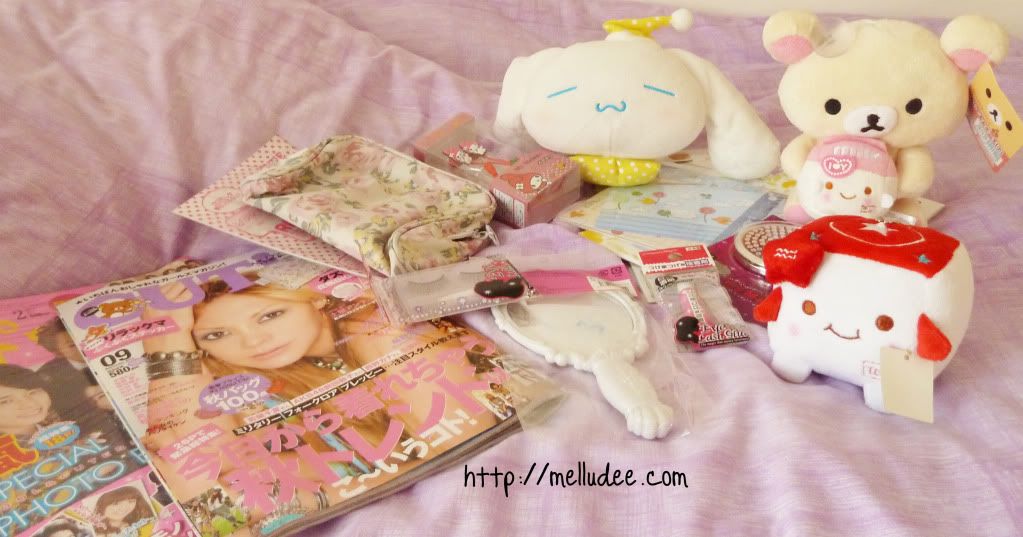 But yes, I had an awesome time and bought a lot of stuff! (some are for you guise!) Hehe. Oh and Vu won me those plushies & My Melody ear phones from those UFO catchers! (loveyou♥)
Oh and of course, THANK YOU to my wonderful darling boyfriend who tagged along with us girls shopping and helped us take nearly all these photos for us *-*! (for ..all our cameras too ! hahahaha) You're the best!
♥ ♥ ♥
If I visited your country, would you ever be so kind to take me out too? Or which country should I visit?


Hehe, please come to Melbourne everyone and we'll meet up!!
Please check out these blog links because they may or may not also blog about today!
Min @ http://summer-graffiti.blogspot.com
Amanda @ http://amanda-hky.blogspot.com/
Sam @ http://swordtear.blogspot.com/
Tam @ http://tamnguyen91.blogspot.com/
Vu @ http://veryvu.blogspot.com/
Please follow and like us: