Although, it's not really such a big thing to me or my family or ..anyone I know really. I just stayed at home writing this blog post and taking some photos for it ! And I'm a bit sick..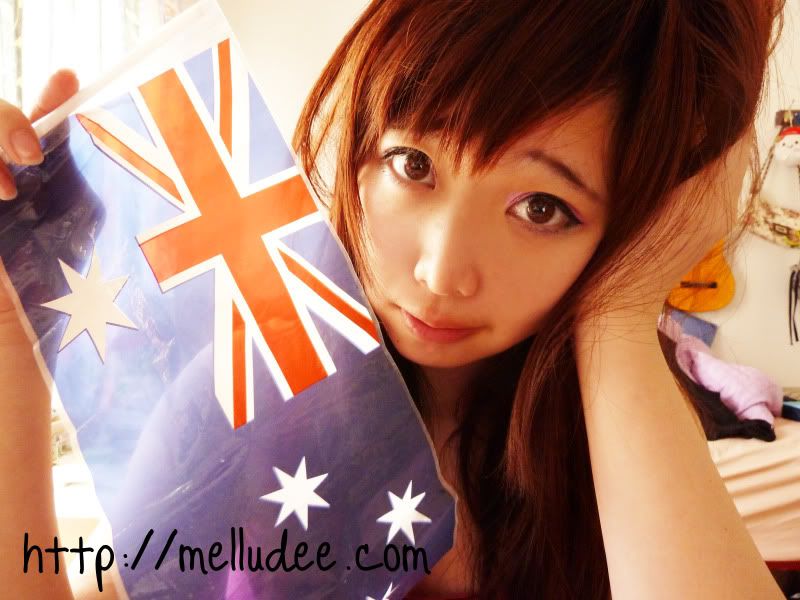 Anyway,
the other day,
I got a
little gift in the mail
from
Maggie
again! (
From KkCenterHK
) and this time, she sent me
s
ome awesome make up products to try out
! I was
really excited
to try these out because I don't think
I have any pigmented eye shadows
; and I was
really hoping
that these would
be pigmented!
Anyway, so this is what I received in the mail.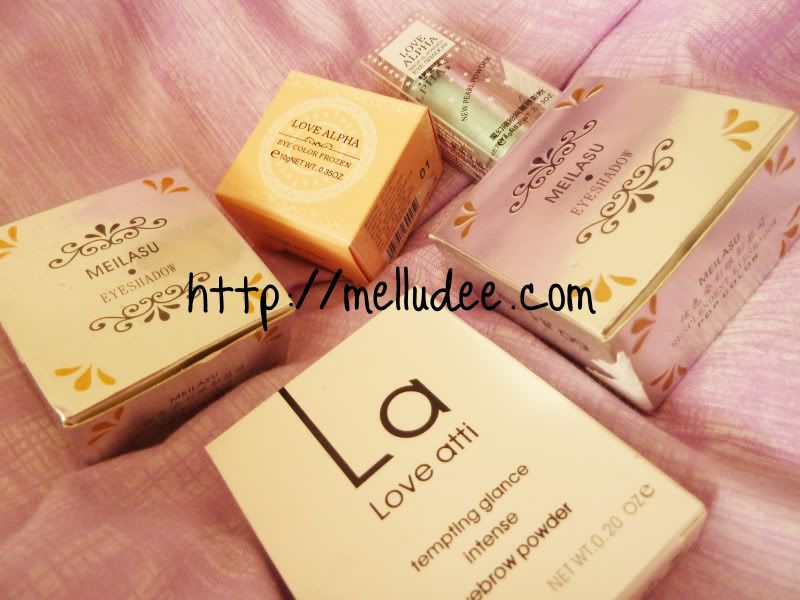 Oh gosh,
I was super stoked
to see that
the packaging
was
cuteeee as
and so were the
names
*-*!
Within this
bunch of awesome stuff
, there are
four eyeshadows
and
one eyebrow powder.
(: And so I'll be doing
a quick review
on all
of them now.
Note: I'm in no way a make up expert and everything written here is based on my own personal opinions.
Love Atti EyeBrow Powder
The URL link to this is: HERE and it costs $2.99USD each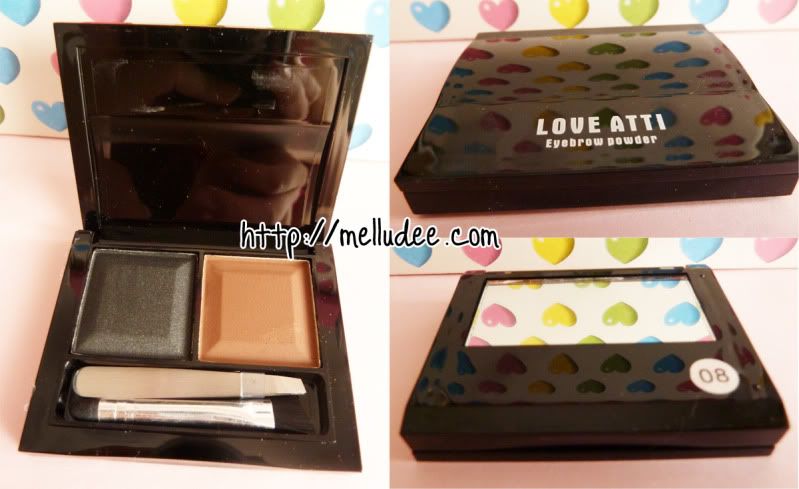 Okay,
I'm going to let out a secret here
, but tbh,
one of my eyebrows
is pretty much
screwed up
because when
I was a little girl I took a shaver out
and s
haved like half of it off
LOL. And now it's
not really
growing back
properly
. So yes,
I really really need this!
And it's
awesome
. The sponge
like applicator makes
it look
much more realistic than eyebrow pencils
. And I think having
both the brown
and
black is good
so that if
I decide to dye my hair lighter
, I can always use it to
lighten my brows!
The only thing that I found weird
was that the mirror was on the back
? But maybe
that's so it won't get dirty
from the make up!
Repurchase?
Yes, unless I find something better than this.
And here are the swatches for the next four eye shadows/pigments: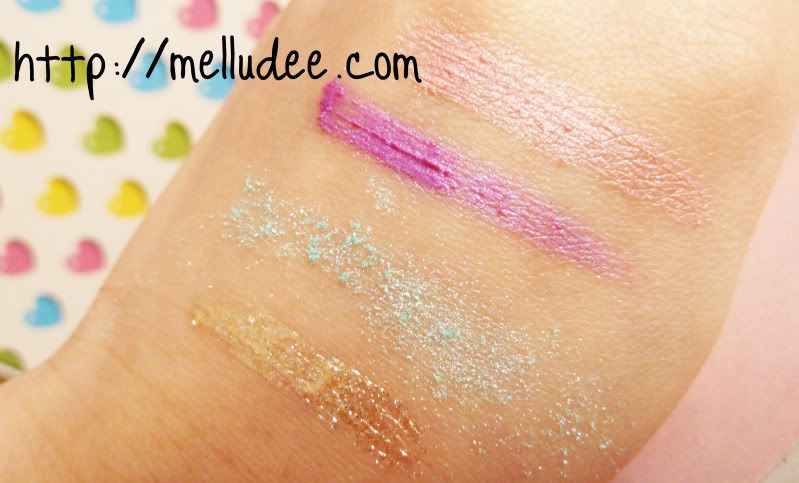 Love Alpha Eye Color Frozen
The url link to this is: HERE and it costs $3.30USD each
I've been
wanting a gold eye pigment for awhile
and this
did the job.
It's a
"jelly-like"
substance and it applies
really smoothly
with a
brush and finger tip
. So it's a
cold, wet application
but dries
pretty quickly
and
stays on well for the rest of the day
. I tried
this out yesterday
when I went out with my bffl, and it stayed on until
I removed it!
I love that
it's quite pigmented
and
shimmery!
It can be
worn on its own
or
over a base!
Repurchase?
Yes definitely! And I'm going to get the other colours too!
Love Alpha Magical Powder Eye Shadow
The url link to this is:
HERE
and it costs $1.99USD each
I really
wanted to try a nice turquoise type
of
blue shadow
and this
colour
works it perfectly
. It's a
loose powder
so
I applied it by patting it
on the
back of my hand
/paper
and picking it up with a brush. It's a nice colour
but when you smear it
becomes
much more like a shimmer dust.
I like it
but I
probably
wouldn't use this much
unless
it's over a base.
I would like to
however try out the white colour of this!
Repurchase?
In this colour, no. But possibly in the other colours!
MEILASU Creamy Eye Shadows
I'll
review
these
two colours together
because
they're of the same brand line
. They're both
cream shadows
so the
application was easy
and
smooth
. I really how they're
also shimmery
and the
colours show quite well
!
Out of
personal preference,
I like the
pink one better but they're both great colours
. I didn't need to take
a lot to get
a
good pigment
, so I'm pretty sure
it'll last me
for quite awhile!
Repurchase?
Yes, I wouldn't mind collecting all the colours !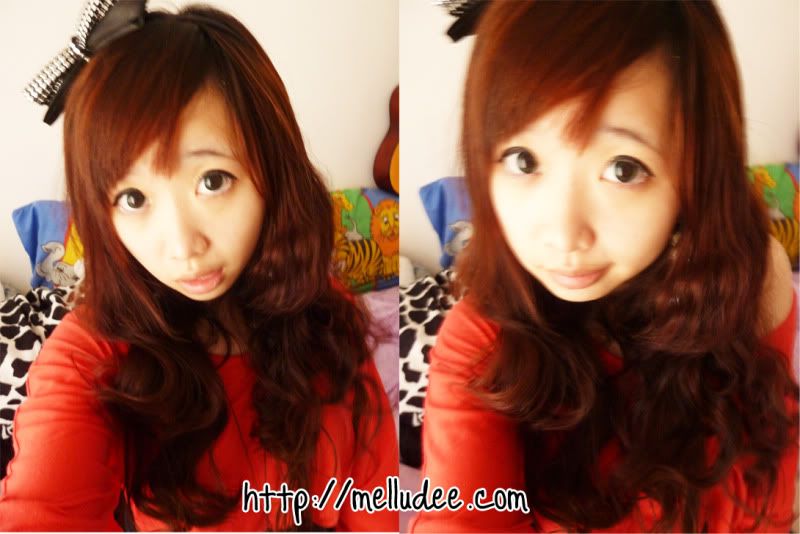 (an extra photo of me wearing the eye brow powder and the gold pigment when I went out yesterday! although you can't really see the gold in these photos..)
And that c
omes to the end of the reviews
. I personally
really like all of the products
that I received from
KkCenterHk
. For
brands
that
I've never heard of
, they're really
well pigmented
and in
quite awesome packaging! (so cuteeee)
I would
definitely
repurchase the
Love Alpha Frozen Gel Pigment
and possibly the
creamy shadows
! ♥ I love that they're
all quite cheap
and
delivery was quick!
♥ ♥ ♥
Do you prefer pigmented shadows or not?
Ps. Girlfriend tag will be soon (after I edit hehe) and maybe next(?) ._. ! In other news, if you haven't already seen on my Facebook page, I'm going to be at the Japanese festival in Docklands (Feb12), so if you're going, meet me  there !!
♥
(we'll camwhore heaps ;D !) /leave me a comment or email
Pps/ Please don't forget to enter my Giveaway !


[sponsored by KkcenterHk]
Please follow and like us: